A vibrant arts sector brings a wide range of social, cultural and economic benefits. For more than 10 years, Columbia Threadneedle has been a major supporter of the arts in the UK through partnerships that span visual arts, art as therapy and art-based education programmes for diverse groups and communities from London and around the UK.
© The National Gallery, London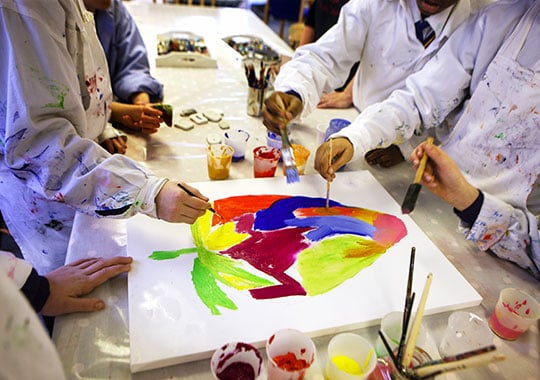 © The National Gallery, London
Take One Picture at the National Gallery
This year's exhibition marks the start of new five-year partnership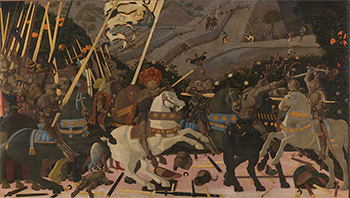 Paolo Uccello, 'The Battle of San Romano'' (painted probably about 1438-40)
© The National Gallery, London.
Columbia Threadneedle Foundation has partnered with the National Gallery in London since 2018 to support the Gallery's 'Take One Picture' learning programme and exhibition. Complementing the Foundation's support, Columbia Threadneedle Investments is the exclusive corporate sponsor of Take One Picture. This year's exhibition also marks the start of a new five-year commitment.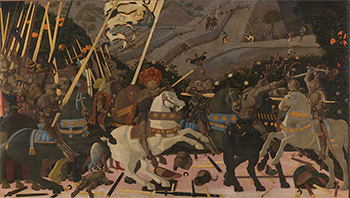 Paolo Uccello, 'The Battle of San Romano'' (painted probably about 1438-40)
© The National Gallery, London.
Take One Picture is the National Gallery's flagship primary schools programme. Each year the Gallery chooses one painting from the collection to inspire primary classrooms countrywide. The challenge is then for schools to use the image imaginatively, both as a stimulus for artwork, and for work in more unexpected curriculum areas.
A display of work produced by schools based on the painting is then shown at the National Gallery in a dedicated exhibition and a selection is published on the National Gallery website. To be considered for the display, schools submit examples of how a whole class or school has used the picture in a cross-curricular way.
This year the National Gallery has selected The Battle of San Romano (painted probably about 1438-40) by Paolo Uccello as the source of inspiration. One of the reasons for the choice of painting was the hope that it would inspire children to talk about conflict and resolution, encouraging them to think about valuable life skills including fortitude and resilience in the face of great difficulty. Many of the projects were created during lockdowns in the UK when activities were limited due to Covid-19 restrictions, echoing the battle with a global pandemic.
Ranging from armoured beasts and shining shields to plumed helmets and printed flowers, the exhibition will feature a range of works reflecting the richness of children's creative responses to Uccello's painting.
Clean Break women's theatre company
We are pleased to announce a multi-year partnership with Clean Break, a thriving charity and theatre company doing vitally important work with women in prison or with experience of prison in the UK. The Foundation will donate £90,000 over three years to Clean Break and will provide further support through volunteering, pro bono assistance and advocacy.
Women's offending is frequently underpinned by a range of complex and gender-specific needs. Clean Break was set up in 1979 by two women prisoners who believed that theatre could bring the hidden stories of imprisoned women to a wider audience. It produces ground-breaking theatre which puts women's voices at its heart. Through theatre and tailored support, Clean Break builds women's resilience, skills and creativity and gives them a voice.
The Foundation will support Clean Break's Members Programme, which is open to women aged 17 and above who have lived experience of the criminal justice system or are at risk of entering it. It offers a foundation of learning and skills in theatre performance, creativity and wellbeing, as well as opportunities to engage in professional, public facing performance projects. Through a unique repertory of new plays and theatre-based creative learning, Clean Break raises difficult questions, inspires debate, and helps to effect profound and positive change in the lives of women with experience of the criminal justice system.
Visual arts charity Mall Galleries
Columbia Threadneedle has a long-standing relationship with Mall Galleries, a charity that aims to promote, inspire and educate audiences about the visual arts. Mall Galleries places great importance on its educational activities, with arts-based workshops and programmes that use exhibitions as inspiration to reach out to children and young adults who face disabilities and other challenges. Based in central London, Mall Galleries uses its Learning Centre to host:
long-term projects with Pupil Referral Units and community groups
programmes for children with emotional and behavioural difficulties
school-based talks and art workshops
professional development discussions with community group leaders.
Between 2008 and 2018, we partnered with Mall Galleries to present The Columbia Threadneedle Prize (formerly the Threadneedle Prize) which grew to become the UK's leading competition for figurative and representational painting and sculpture.

Arts For All is a highly creative charity serving the London communities of Tower Hamlets and Hackney. The charity runs structured weekly art therapy sessions to engage people of all ages from diverse cultures and backgrounds including those with special needs. The centre is in one of the most deprived areas of the UK, with some 85% of families served being unemployed and 75% with English as their second language.

Through long-term support, Arts For All builds confidence, helps people achieve their goals and changes lives. Columbia Threadneedle employees support Arts For All through regular volunteering.
Swindon Children's Scrapstore

Scrapstore is an environmental charity, social enterprise and community resource centre providing the Swindon community with low cost, environmentally friendly resources for use in recreational, educational and leisure time activities.

Columbia Threadneedle has a large office in Swindon and our employees support Scrapstore's Creative Art & Craft workshops, which use scrap materials for innovative arts-based projects that encourage local communities to be actively involved. Facilitated by local artists, the workshops develop the children's abilities, whilst demonstrating that all kinds of materials can be used in creative and practical ways. Many of the children involved are disadvantaged and from hard to reach sections of the community. The ethos of the workshops is to promote children's creativity, to experiment, risk take and not to have predetermined outcomes.
Latest Columbia Threadneedle Foundation News
Supporting financial education in UK primary schools
Columbia Threadneedle Foundation is a founding supporter of a new charity, the 'Centre for Financial Capability'. This charity will aim to provide effective and high-quality financial education to every primary aged child in the UK.
Charity partners innovate to respond in 2020
Our charity partners have re-imagined what they do to support vulnerable groups and individuals in 2020. Here we highlight just some of the creative solutions from our charity partners this year.
Take One Picture opens at the National Gallery
Columbia Threadneedle Foundation is pleased to sponsor the 'Take One Picture' programme and exhibition at the National Gallery in London for the third year. This year's free exhibition will run from 2 December 2020 until 31 January 2021.