Two pictures of the character Link from the Nintendo game The Legend of Zelda – 34 years apart.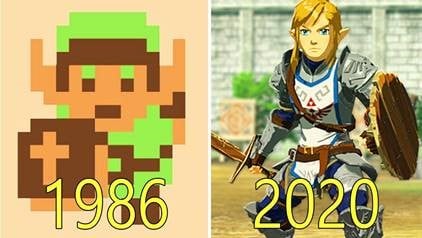 What has this got to do with global investing? Is it that Link is brave and fearless in his quest to save Princess Zelda, like your Columbia Threadneedle portfolio managers? Afraid not – it is the image quality. We emphasise quality in all our investments, of course, but in this case it simply illustrates the progress that semiconductors have made in the past 30 years, and with them computing power and graphics. This improvement is at the heart of many critical products, not just video games. From mobile phones to the internet, from search engines and cloud computing to the AI that will drive the future, they are all dependent on computer power and semiconductors.
A recent presentation from our tech team started with this chart: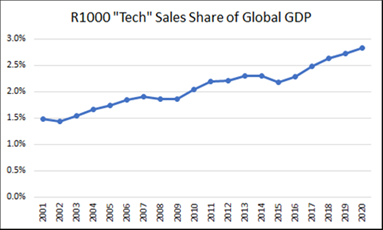 Source: Bloomberg, January 2021
Using Russell 1000 tech sales as a proxy, it shows that the tech intensity of GDP continues to grow. At the heart of this is the semiconductor industry – so not only is it growth, but the really good news is that it is quality as well. Over the past few decades the industry has consolidated with fewer participants making new capacity decisions, the result of which is that the industry in more profitable and the previous intense cyclicality has changed – even for suppliers of capital equipment to the semiconductor companies. This is really visible in Figure 1, showing industry profitability:
Figure 1: Financial performance for semicap players over the cycle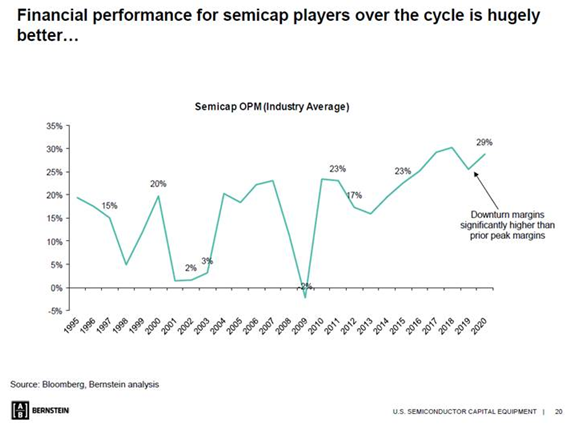 Source: Bloomberg/Bernstein, January 2021
Semiconductors are the building blocks of the modern economy and represent quality growth in our portfolios – we're not adverse to the odd video game company as well.