Welcome to the newly designed Responsible Investment Quarterly. Over a number of years we have developed the publication to showcase Columbia Threadneedle Investment's responsible investment (RI) capabilities across Europe, Asia and the US. In this new incarnation we wanted to focus more on the RI research embedded within our investment process, and how it supports and furthers our investment approach across the globe.
The research culture at Columbia Threadneedle is characterised by our "research intensity" approach – a team of more than 200 investment professionals, including more than 130 analysts, dedicated to original, independent research that drives long-term consistent returns for our clients. We believe RI research is fundamental in this, so our RI analysts are embedded within the Global Research team. The team's philosophy reflects this integration with its mantra: "Educate, Collaborate, Engage".
Our RI analysts educate portfolio managers and fundamental industry analysts on RI themes and developments based on our intense research in three overarching sustainability themes: climate transition, energy transition, and food and materials transition. We then collaborate with our portfolio managers and industry specialists to highlight risks and opportunities within industries and sectors. Through this collaboration we identify companies we want to engage with on the risks and opportunities we have identified linked to that particular RI theme. Finally, we integrate these learnings into our investment selections and decisions. This approach therefore allows us to support and provide actionable investment insights.
Our overarching sustainability themes are linked to the UN Sustainable Development Goals, which we believe increasingly shape the economic and investment landscape, and our RI thematic research focuses on investment- relevant sub-themes within these.
RI Research Team philosophy: Educate, Collaborate, Engage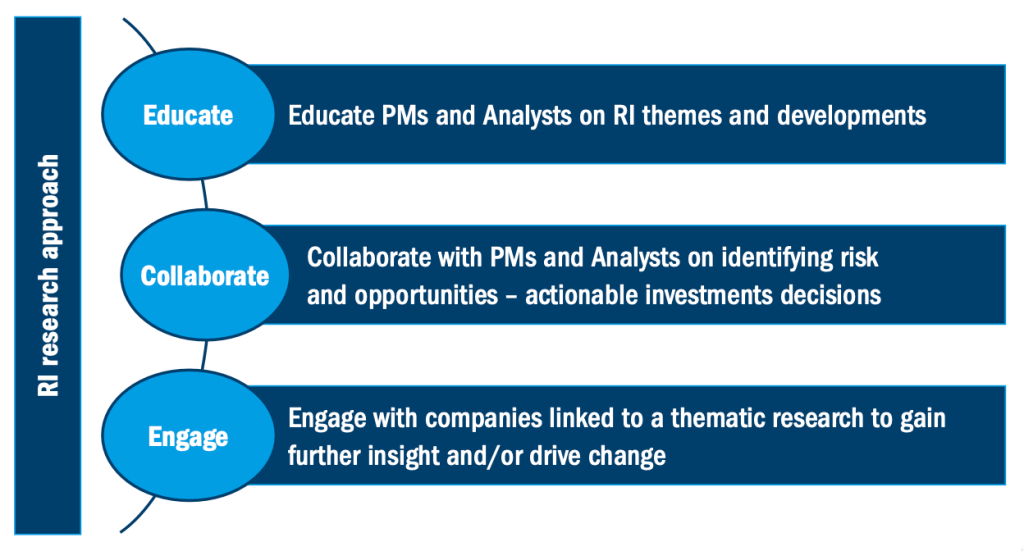 Our RI themes and sub-themes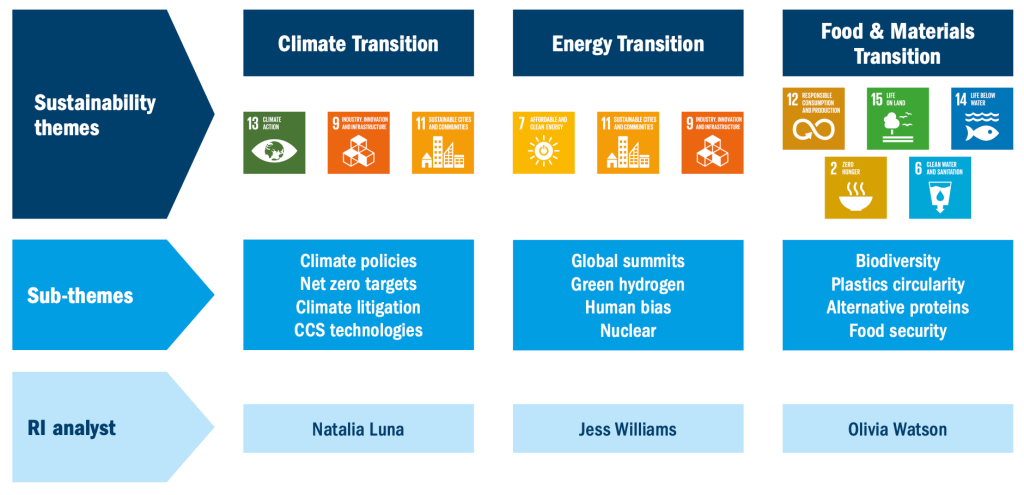 In this quarter's issue Natalia Luna looks at the European Union's energy crisis response to the awful conflict in Ukraine, and highlights that it will likely accelerate the shift to renewables. Jess Williams educates us on the technological advancements in nuclear power, which are overcoming some of the barriers to what has the potential to be a very complementary, clean and reliable power source to renewables. Olivia Watson explains why she believes we will see an acceleration to more circular plastics, and discusses the risks and opportunities this will bring for different industries.
We hope you enjoy the new format and reading our analysts' latest viewpoints.