This is a marketing communication. Please refer to the prospectus of the UCITS and to the KID before making any final investment decisions.
This investment grade credit fund unlocks the full potential of bonds to deliver both financial returns and positive social outcomes.
SFDR
Article 8*

Fund Inception date:
23 May 2017

Fund Manager
Simon Bond

Benchmarks notes:
Composite index comprising: 50% ICE BofA Euro Non-Sovereign; 50% ICE BofA Euro Corporate Euroland Issuers

Source: LuxFLAG valid until 30 September 2022

Source: Towards Sustainability valid + 2021
Investing in positive social outcomes
We invested in organisations and bonds delivering and enabling tangible impact.
The decision to invest in the promoted fund should also take into account all the characteristics or objectives of the promoted fund as described in its prospectus. The fund's sustainability related disclosures can be found here.
Annual Social Impact Report
Threadneedle (Lux) European Social Bond – Impact Report

Innovative approach:  Using a dynamic social research methodology to guide investment decisions, the portfolio manager actively sources bonds that combine clear social benefits with sound financial attributes.
Strength in partnership: Our strong reputation across both fixed income credit and social investment is enhanced by our social partnership with INCO Group1, an organisation focused on the European social economy and a leader in assessing sustainable social businesses.
Proven track record in social bond investing: We have successfully managed outcomes-focused social bond strategies since 2013, and have over €1 billion invested in a range of strategies for clients in the UK, Europe and the US.
1INCO operates under the auspices of Europe's leading social enterprise: Groupe SOS and Le Comptoir de l'innovation
This fund is suitable for investors who can tolerate a moderate level of risk in return for solid returns over a medium-term investment horizon. Investors should read the Prospectus for a full description of all risks.

Investment risks: Investment in debt securities, derivatives and currencies.

Associated risks: The fund may be exposed to additional credit, market, interest rate and liquidity risks due to the nature of investing in debt markets.
Outcome-focused approach aligned with SDGs
We use an outcomes-based approach to deliver both social and financial returns, investing in businesses that have a positive social impact predominantly in Europe, accessing a broad social universe of around 2,000 bonds. We actively source bonds from seven key social development fields, targeting the most beneficial projects in the areas of most need, with geography being a key driver.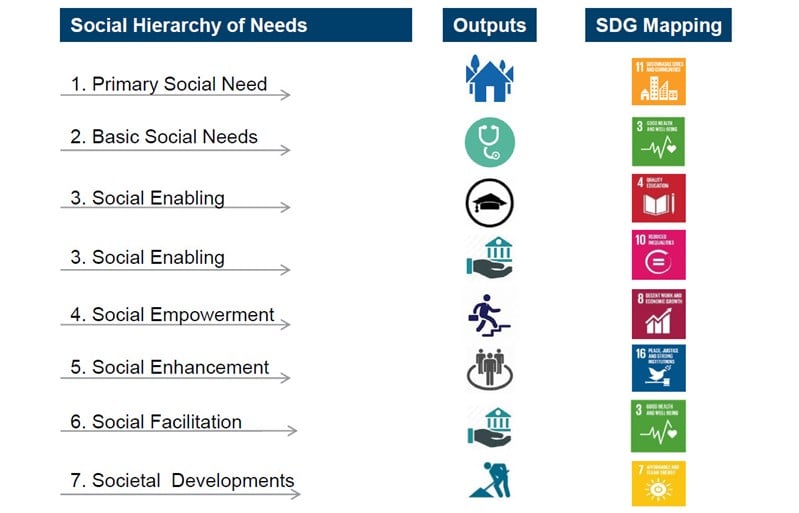 The UN launched the Sustainable Development Goals (SDGs) in 2015 as a framework of sustainable development priorities and have emerged as a potential guide for investing towards a more sustainable world for investors and governments alike, by signposting global development priorities.
Social assessment methodology directs investments to positive social outcomes
Eligible investments are ranked both by their impact category and social intensity by our Responsible Investment (RI) analysts. Our Investment Grade credit research analysts ensure investment ideas pass rigorous financial tests for inclusion in the portfolio. We actively engage with company managements to understand how their businesses work and take a proactive role with both corporates and governments in the growth and development of the social bond market.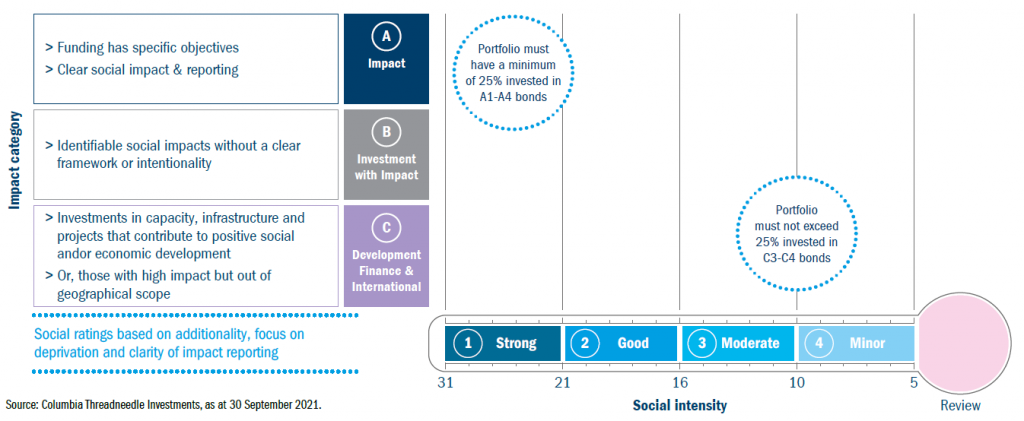 Our social partner, INCO Group, brings its expertise and reputation by deepening the research on the social outcomes of potential investments; reviewing, advising and monitoring our social assessments via a quarterly Social Advisory Panel; and producing an independent annual report.
Social Investment Guidelines
Thematic Insight: Managing the Human Capital Transition
Human capital, although often overlooked by investors, is a significant component of the forces driving performance. Businesses investing in human capital are likely to derive a competitive advantage.
ESG Viewpoint: A deep dive on Japan's low carbon transition  
Japan's decarbonisation journey – we're engaging companies on climate-related risks
Social norms: the growing bond market that is increasingly delivering impact
The growth in the breadth and depth of the social bond market is impressive, but there's still more to come.
Director of Responsible Investment Portfolio Management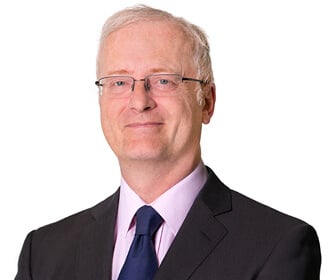 Director of Responsible Investment Portfolio Management
Simon Bond joined the company in 2003 and has been the portfolio manager of the Threadneedle UK Social Bond Fund since its launch in 2013, as well as the Threadneedle (Lux) European Social Bond Fund which launched in 2017. Having previously managed a number of institutional and retail investment grade corporate bond portfolios, Simon now concentrates his focus on managing Columbia Threadneedle's social bond portfolios and developing other responsible investment strategies across the firm.
Simon has 34 years' experience in the fund management industry, with the last 29 years specialising in corporate credit. Throughout his career, Simon has taken a keen interest in the social investment space and as an analyst the first entity Simon reported on was Peabody Trust and the first sector he covered was housing associations. Simon is particularly passionate about the role of infrastructure in both regeneration and economic growth.
Prior to joining the firm, Simon managed £6 billion in his role as the Senior UK Credit Fund Manager for AXA. Simon also worked for GE Insurance as a Portfolio Manager, Provident Mutual as a Fixed Income Analyst and Hambros Bank as an Investment Accountant and Pension Fund Investment Administrator.
Simon is a Fellow of the Chartered Institute for Securities and Investment, holds the Investment Management Certificate and the General Registered Representatives Certificate.
*The Fund is categorised an Article 8 under the EU Regulation 2019/2088 on sustainability related disclosures in the financial services sector (SFDR) and promote environmental or social characteristics as an objective.

The LuxFLAG ESG Label is valid for the period ending on 30 September 2022. Investors must not rely on LuxFLAG or the LuxFLAG Label with regard to investor protection issues and LuxFLAG cannot incur any liability related to financial performance or default.
Important information: Threadneedle (Lux) is a Luxembourg domiciled investment company with variable capital ("SICAV"), managed by Threadneedle Management Luxembourg S.A.. This material should not be considered as an offer, solicitation, advice or an investment recommendation. This communication is valid at the date of publication and may be subject to change without notice. Information from external sources is considered reliable but there is no guarantee as to its accuracy or completeness. The SICAV´s current Prospectus, the Key Information Document (KID) and the summary of investor rights are available in English and/ or in local languages (where applicable) from the Management Company Threadneedle Management Luxembourg S.A., International Financial Data Services (Luxembourg) S.A., your financial advisor and/or on our website www.columbiathreadneedle.com. Threadneedle Management Luxembourg S.A. may decide to terminate the arrangements made for the marketing of the SICAV.

Issued by Threadneedle Management Luxembourg S.A. registered with the Registre de Commerce et des Sociétés (Luxembourg), Registered No. B 110242, 44 rue de la Vallée, L-2661 Luxembourg, Grand Duchy of Luxembourg.
Columbia Threadneedle Investments is the global brand name of the Columbia and Threadneedle group of companies.
Millions of people around the world rely on Columbia Threadneedle Investments to manage their money. We look after investments for individual investors, financial advisers and wealth managers, as well as insurance firms, pension funds and other institutions.
Columbia Threadneedle Investments has a comprehensive range of investment funds catering for a broad range of objectives.
Teamwork defines us and is fundamental to our investment process, which is structured to facilitate the generation, assessment and implementation of good, strong investment ideas for our portfolios.