This is a marketing communication. Please refer to the prospectus of the UCITS and to the KIID before making any final investment decisions.
A global emerging markets (EM) equity strategy that targets companies who exhibit strong or improving Environmental, Social and Governance (ESG) qualities as well as sustain and accelerate high-quality and profitable growth.
Fund inception date
23 September 2020
Benchmark index
MSCI Emerging Markets Index
1. Strong Emerging Markets heritage
Our experienced investment team draws on global research capabilities to drive high-conviction stock holdings.
A focus on companies with strong or improving ESG credentials. Underpinned by an active approach to bottom-up company specific ESG research and engagement.
3. Consistent, repeatable process
Predicated on the tenet of "no unintended bets": where we create upside and downside price targets for all stocks in our investment universe, including those we don't own, to give us a better perspective of those we do. Fundamental and RI research is supplemented by quantitative screens, as well as a disciplined sell rule.
This fund is suitable for investors who can tolerate high levels of risk and volatility and have a long-term investment horizon. Investors could lose some or all their capital and should read the Prospectus for a full description of all risks.
Investment risks: Investment in equities, portfolio concentration, smaller companies and currencies.
Associated risks: The fund may be exposed to additional market, ESG, political and liquidity risks due to the nature of investing in emerging markets.
The decision to invest in the promoted fund should also take into account all the characteristics or objectives of the promoted fund as described in its prospectus. The fund's sustainability related disclosures can be found in the literature section.
Why now for ESG investing in emerging markets
Do EM policymakers and companies care about sustainability? And why are investors still under allocated? Do you still hesitate to invest in emerging markets? Watch this video to see what Krishan Selva has to say.
The market often underestimates the ability of highly innovative businesses to sustain high returns on capital and strong growth over the long run. Many such highly innovative companies also lead their peers in ESG best practices.
We seek to identify and invest in high-quality innovators through a combination of a detailed fundamental analysis and Columbia Threadneedle's proprietary ESG research.
We utilise a 'stewards-of-capital' and competitive advantage framework to identify companies that can sustain and accelerate profitable growth over the long term, with a focus on return on invested capital. We work closely with our RI team to build a high conviction, best ideas portfolio of emerging markets innovative, ESG-friendly companies.
As we take a 'go anywhere' approach, stock selection drives sector and country weightings, and we believe our focus on long-term sustainable practices will drive outperformance across a range of market conditions.

Global Head of Emerging Market Equities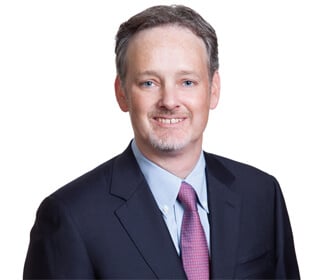 Global Head of Emerging Market Equities
Dara White is the global head of emerging market equities at Columbia Threadneedle Investments and has acted as lead portfolio manager of emerging market equity strategies since 2008. He joined the company in 2006 as co-manager of the strategic investor team and is based in Portland. Prior to this, Dara was a portfolio manager and analyst with RCM Global Investors. Dara received a degree in finance and marketing from Boston College. He is a member of the CFA Institute and the Security Analysts of San Francisco. In addition, he holds the Chartered Financial Analyst designation.
*The Fund is categorised an Article 8 under the EU Regulation 2019/2088 on sustainability related disclosures in the financial services sector (SFDR) and promote environmental or social characteristics as an objective.
Important information: Your capital is at risk. Threadneedle (Lux) is a Luxembourg domiciled investment company with variable capital ("SICAV"), managed by Threadneedle Management Luxembourg S.A.. This material should not be considered as an offer, solicitation, advice or an investment recommendation. This communication is valid at the date of publication and may be subject to change without notice. Information from external sources is considered reliable but there is no guarantee as to its accuracy or completeness. The SICAV ́s current Prospectus, the Key Investor Information Document (KIID) and the summary of investor rights are available in English and/ or in local languages (where applicable) from the Management Company Threadneedle Management Luxembourg S.A., International Financial Data Services (Luxembourg) S.A., your financial advisor and/or on our website www.columbiathreadneedle.com. These documents are available in Switzerland from the Swiss Representative and Paying Agent RBC Investor Services Bank S.A., Esch-sur-Alzette, Zurich branch, Bleicherweg 7, CH 8027 Zurich. Threadneedle Management Luxembourg S.A. may decide to terminate the arrangements made for the marketing of the SICAV. Pursuant to article 1:107 of the Act of Financial Supervision, the sub-fund is included in the register that is kept by the AFM. Threadneedle (Lux) is authorised in Spain by the Comisión Nacional del Mercado de Valores (CNMV) and registered with the relevant CNMV's Register with number 177. Past performance is calculated according to the BVI method in Germany.
In the EEA and Switzerland: Issued by Threadneedle Management Luxembourg S.A. registered with the Registre de Commerce et des Sociétés (Luxembourg), Registered No. B 110242, 44 rue de la Vallée, L-2661 Luxembourg, Grand Duchy of Luxembourg. In the UK: Issued by Threadneedle Asset Management Limited. Registered in England and Wales, No. 573204. Registered Office: 78 Cannon Street, London EC4N 6AG, United Kingdom. Authorised and regulated in the UK by the Financial Conduct Authority. In the Middle East: This document is distributed by Columbia Threadneedle Investments (ME) Limited, which is regulated by the Dubai Financial Services Authority (DFSA). For Distributors: This document is intended to provide distributors' with information about Group products and services and is not for further distribution. For Institutional Clients: The information in this document is not intended as financial advice and is only intended for persons with appropriate investment knowledge and who meet the regulatory criteria to be classified as a Professional Client or Market Counterparties and no other Person should act upon it.
Columbia Threadneedle Investments is the global brand name of the Columbia and Threadneedle group of companies.